Easy, secured and fast smart system
Smart Automation Systems for all
Konnsys modernizes the space and lets you control everything from an application. It helps brush aside all the management related concerns of your space. We have numerous smart automated solutions that fit well with different kind of spaces and work effectively.
Hotel Automation
Install smart automation systems in hotel rooms to upgrade your services and provide your guests with a luxurious, premium and comfortable room. Additionally, security systems in big spaces are necessary to keep your hotel and guests safe.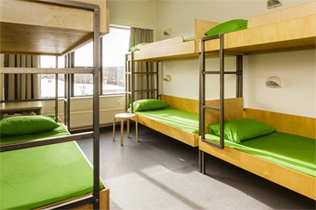 Hostel Automation
Smoke detectors and security systems can be installed in Hostels to monitor and restrict smoking or any other wrong activities done by students. These Smart systems help keep everything in place and the students under constant check.
Building Automation
Smart automation and security systems are quite necessary for commercial spaces as they help in managing the crowd and maintaining security in the building. Automatic gates and elevators, parking system, visitor management, temperature sensors, video/audio surveillance and many more help in tracking and monitoring anonymous activities inside and outside the building.
Smart Ecosystem
Our solutions extend to a varied range of systems that will ensure an easier and better lifestyle. We believe in making spaces smarter trouble-free with high-end technology and user friendly controls. Check out our collection of smart products.
Smart Living
Live a smart life with system that compliments your lifestyle. Konnsys brings together the controls of different devices into a single touch access that helps you to keep everything in place, just the way you want.
Wakeup mode - 6:30 AM
You will not have to tolerate grumpy alarms in the morning. The curtains will automatically open at the set time refreshing morning music playing in the smart speaker to wake you up.
Office mode - 9:00 AM
The CCTV cameras installed in your office will help you keep an eye on everything happening around in the space, without you having to move even a bit. Connect it from anywhere through your phone.
Home Mode - 8:00 PM
Right when you unlock the door, the smart lights will set up a relaxing mood after a hectic day at office. You won't have to worry about opening the windows or switching on the fan because your smart appliances will do it all for you!
Entertainment Mode - 10:00 PM
After a good dinner, hop directly into your bed and watch TV without having to worry about falling asleep without locking the doors. The doors will get locked at the set time with the Security Camera and Motion Sensors getting activated automatically.
Sleep Mode - 11:00 PM
So sleepy that you forget to turn off your TV and speakers? The smart controls will do it for you. You don't even have to worry about the AC/Fan! The temperature and humidity sensor will automatically set up an appropriate temperature level for you to have a good, comfy sleep.
Blogs and Events
Here are a few blogs and cases that will help you understand Smart Automation Solutions in a better way and provide knowledge about how different systems can turn out to be in your benefit.