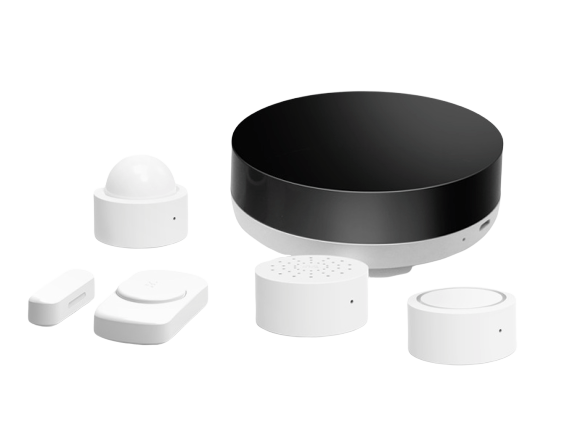 The Hub
Nucleus of the smart ecosystem.
Let the hub worry about your safety and well-being.
IR remote control
Control all your appliances with IR Remote Control and make life easy and smart.
Voice prompt
Automatic Alarm with message push reminder to inform whenever anything unusual happens.
Long battery life
Smart battery that lasts for longer time.
Accurate Sensing
All input commands are accurately and quickly sensed.
| | |
| --- | --- |
| Working Temp.: | 0°C ~ +40°C |
| Power Supply: | DC 5V / 1A |
| Network: | 2.4 GHz Wi-Fi |
| Receiving Sensitivity: | -98dBm |
| Wi-Fi Max Power : | <20dBm |
| IR Angle: | 360° Reflective environment |
| Number of Node Connections: | 30 |
| ZigBee: | 2.4 GHz ZigBee 3.0 |
| Transmit Power: | 19dBm |
| Size: | 90 x 90 x 35 (mm) |
| Power Port: | Micro USB |
| IR Distance: | Non Reflective open space ≥10m. Indoor white wall empty space ≥15m. |
Temp-Humidity Sensor
| | |
| --- | --- |
| Temperature Detection Accuracy: | ±0.5°C |
| Battery: | CR 2450 |
| Transmit Power: | ≤10dBm |
| Receiving Sensitivity: | -98dBm |
| Working Temp.: | 0°C ~ +40°C |
| ZigBee: | 2.4 GHz ZigBee 3.0 |
| Size: | 30.6 x 15.7 (mm) |
| Relative Humidity Detection Accuracy: | ±5% |
Motion Sensor
| | |
| --- | --- |
| Working Temp: | 0°C ~ +40°C |
| Detection Range: | 4m ~ 6m |
| Detection Angle: | 120° ~140° |
| Size: | 31 x 27.5 (mm) |
| Battery: | CR 2450 |
| ZigBee: | 2.4 GHz ZigBee 3.0 |
| Transmit Power: | ≤10dBm |
| Receiving Sensitivity: | -98dBm |
Entry Sensor
| | |
| --- | --- |
| Detection Range: | ≤20mm |
| Transmit Power: | ≤10dBm |
| Working Temp.: | 0°C ~ +40°C |
| Battery: | CR 1632 |
| Size: | 45 x 24 x 11.5 (mm) |
| ZigBee: | 2.4 GHz ZigBee 3.0 |
| Receiving Sensitivity: | -98dBm |
Let's discuss
If you have anything to ask or if there's any way we can help you with your queries, you can reach out to
us by filling up the form given below: